Alex's foreskin restoring results.
DTR user Alex shares his restoration progress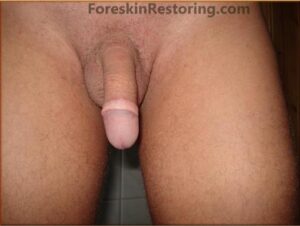 This was some of the progress pictures and will focus on the end of his restoring project. Alex has shared a lot of photos and information over the years with me.
He lives in Europe and is truly a pioneer with restoring and has pushed the envelope in regards to "touch up surgeries" and how fast he restored.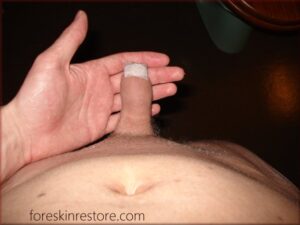 "This is how he started to restore, using a tape-ring method. He used this method to create enough skin to could wear the DTR. He used tape-ring 24/7 for about six weeks."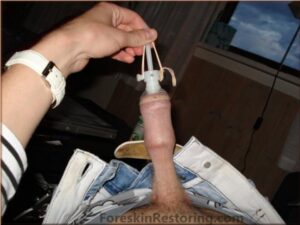 I asked Alex what kind of routine he used with his DTR and this is what he said.
Alex's restoration: "I think in the two years wearing the dtr, I had tried almost every time and tension variants I could come by. I used the dtr typically 5 – 7 h every day, with varying tension settings. Some days here and there I use a combo routine, will say that I worn the dtr for 10-12 h. But normally 5 -7h then. In the last months I did the same on what you do or did, a routine where I used dtr for 2 hrs, took 1 h break, 2 h with dtr, 1h break, so finally 1-2 h with dtr.
I changed between one and two elastics on the 6″ rod, and manually tension setting with the screw.In the beginning I used the 4″ rod, and so the 5″ rod, and then finally the 6″ rod. I also tried the 7″ rod, but found out that 6″ with two elastics was better. The first weeks in my restoration process I stared with the tape-ring method and manually stretching.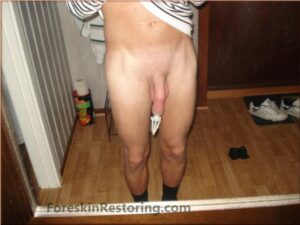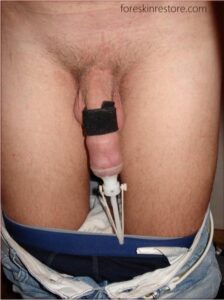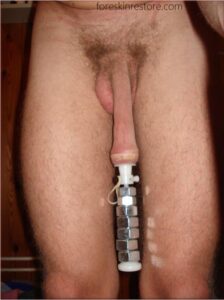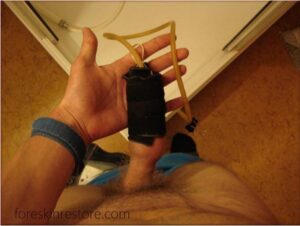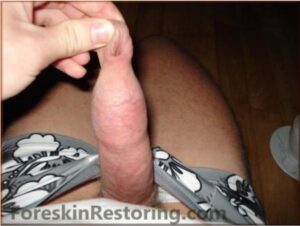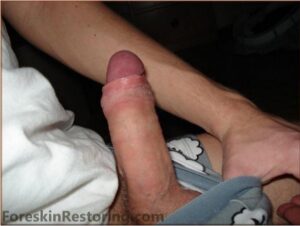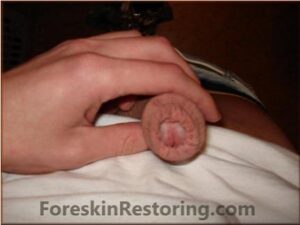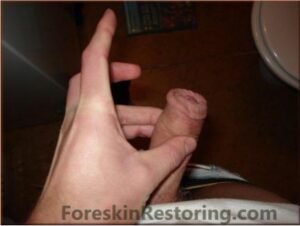 After two years a restoring his foreskin growth was phenomenal. Alex. was not finished with his restoring project and chose to do a touch up surgery known as V plasty.
Although touch up surgeries a not common restoring men, Alex wanted to have a tight tapered foreskin, with the main goal being able to have full erect coverage without the skin rolling back and without having to restore for more years.